Video Management Console
Products and Services
Company News
TrafficLand licenses Westwood One's Metro Traffic as the exclusive representative to the broadcast industry for real-time video from its national traffic camera network.

TrafficLand provides live updating traffic video to the leading news and traffic radio station Web sites in New York and Washington, DC.

TrafficLand provides the CNN Situation Room with a single point of access to over 7,000 traffic cameras in more than 50 cities.

The Washington Post Web site has dramatically upgraded the traffic information provided on their Web site with access to over 400 local traffic cameras from TrafficLand.

National Web portals like WeatherBug.com and Traffic.com use TrafficLand content to enhance traffic reporting and differentiate their operations as more complete information resources.
Get Local or National Access to Thousands of Live Traffic Cameras
TrafficLand's Video Management Console (VMC) turns any PC into a video command center with access to real-time video from traffic cameras across a local market or the entire U.S. Originally designed to help first responders improve situational awareness, VMC now provides public safety agencies, traffic reporters, fleet operations, government agencies and others with easy access to live traffic video from more than 18,000 roadside cameras in over 200 cities nationwide.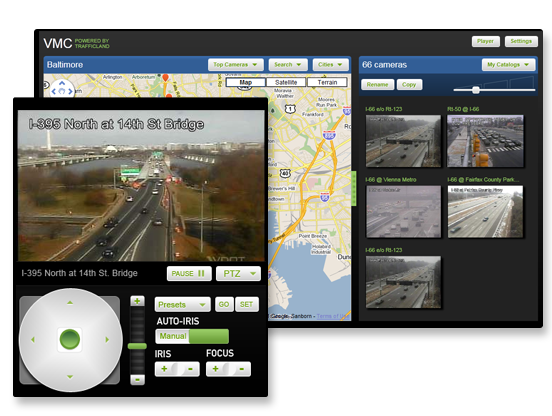 Users can select and save multiple cameras in 'catalog' displays that quickly show the effects of traffic and weather conditions or emergency situations on roadways. Clicking on cameras (either from the map or catalogs) can launch live streaming video in a large viewing window to allow you to focus on a specific traffic, weather or news incident.
Other features include:
Intuitive drag-and-drop customizations make it easy to build 'catalogs' of cameras in logical groupings like rush hour routes, bridge crossings, etc.
Set up and save unlimited number of catalogs.
Ability to find cameras using an interactive map or text search.
Avoid costs of maintaining equipment at DOT traffic centers and reduces recurring bandwidth expenses.
For more information, please contact TrafficLand:
TrafficLand, Inc.
11208 Waples Mill Rd.
Suite 109
Fairfax
,
VA
22030